Philip Kraczkowski Exhibit
Sculptor & Creator of Original G.I. Joe Head
Th, Fri: 10AM-4PM, Sat: 10AM-2PM
Watch Our Kraczkowski Exhibit Videos
What Will You See at the Exhibit?
Philip Kraczkowski was known for sculpting the head of the original G.I. Joe action figure in 1963. He was paid $600 for that work. Kraczkowski found plenty of success throughout his life as a sculptor—creating large busts, presidential medallions, short 6″ statues, and more.
In our exhibit, you'll find many items from Kraczkowski's actual barn workshop, which was located on Lindsey St. in Attleboro. The goal is to have visitors feel like they're really inside his workshop. You'll be surrounded by his tools and several pieces that are works in progress. In addition to the workshop, you'll find Kraczkowski's bust of Lowell Thomas, a G.I. Joe figure, and many of the short statues and medallions that he made during his career.
Master Sculptor and Creator of the Original G.I. Joe Head - Philip Kraczkowski's Biography
Philip Kraczkowski was a noted artist and sculptor who was born in Attleboro Massachusetts in 1916. He worked alone in a small studio in a house on Lindsey Street, where his family also ran a dairy farm.
Philip showed early ability as a sculptor and he attended the Rhode Island School of Design for three years until a family illness forced his return to the farm. Early in his career, he produced colorful caricature figures cast in resin. He marketed these figures as items to be photographed for use on magazine covers. His comic figures depicted characters from farm life, the early frontier, sports, and everyday life scenes.
In addition to his humorous caricatures, he created many sculpted pieces of a serious nature. These include a bronze bust of noted journalist and explorer Lowell Thomas that you see in this exhibit, a bronze bust of J. Edgar Hover who was head of the F.B.I., and another bronze bust of General Curtis Lemay who was the founder of the Strategic Air Command. He also created the Dag Hammarskjold medal for the United Nations, the Kennedy-Johnson inauguration Medal, and many other commemorative medals and trophies. He was the sculptor that developed the design for the highly successful G.I. Joe action figure produced by the Hasbro Toy Company of Pawtucket, Rhode Island.
Philip was a friendly, motorcycle-riding local with a twinkle in his eye and a ready smile and laugh. He pursued his art for over 60 years and when he died in October of 1996 at age 80, he left an impressive body of artistic accomplishment. The workbenches, tools, and unfinished pieces in the Kraczkowski exhibit are the actual items from Philip Kraczkowski's home studio as shown in the photos on the wall.
Historic Photos of Philip Kraczkowski
Selected images from our historical photo collection. Use only with credit to the Attleboro Area Industrial Museum.
Philip Kraczkowski's work is cherished not only by proud local supporters but also by people all over the world. Here is a mere sampling from the great variety of Phil Kraczkowski's works and commissions:
Created a medallion for former Pope John Paul VI
Was commissioned to do a cover for the annual Comedians Golf Classic. When he turned in his work, the golfers invited him to play in the tournament.
Was asked by Lady Bird Johnson to create the presidential inaugural medal for her husband, President Johnson. After the medal was made, the former first lady liked the design so much, that she bought the cast from Kraczkowski.
Created a medallion bearing the image of Dag Hammarskjold, the former secretary general of the United Nations.
A few examples of life-sized busts Kraczkowski created were J. Edgar Hoover, Lowell Thomas, and George Gershwin.
Sculpted the original G.I. Joe head for Hasbro toys.
Created the official commemorative medal for the Presidential Inauguration of JFK.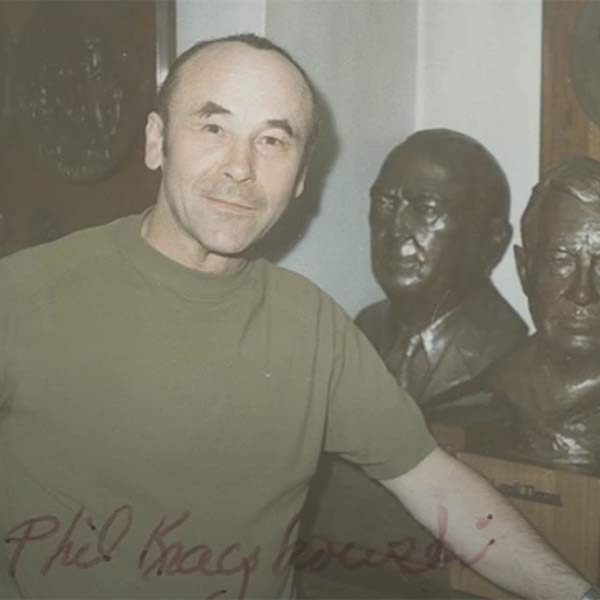 Did you know? Philip Kraczkowski of Attleboro was paid $600 (worth about $5,700 today) as an independent contractor to create the design of the first G.I. Joe prototype.
We'd love to hear your story about Balfour, whether it's a family anecdote, possession, or something else. Please let us know if we can tell your story online or in the museum.